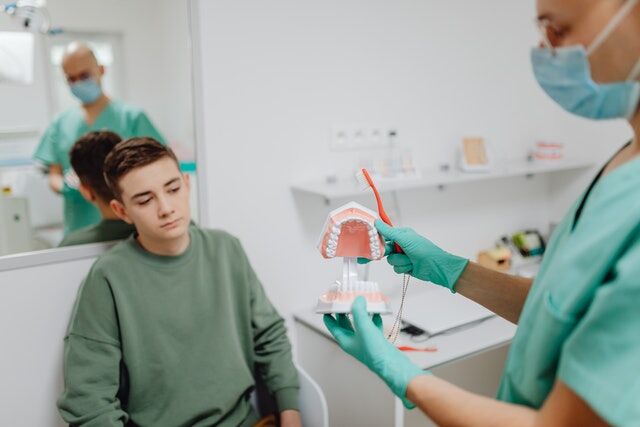 Do you hide your smile because you are embarrassed about how your teeth look? There is hope. You might be a candidate for dental crown restoration.
Dental crowns are custom-made caps for damaged teeth. Dentists recommend them for patients who have undergone root canals, as the tooth becomes more fragile and needs protection. Dental crowns are also used to treat chipped or broken teeth, misshapen or discolored teeth, and weak or decaying teeth and are used as part of a tooth implant or dental bridge.
Dental crowns can be made from various materials, but porcelain crowns are the most common option. Crowns made from porcelain are quite durable due to advances in ceramic composition and the techniques used to bond other elements. When it comes to crowns, porcelain offers the best color match compared to other materials.
Pros of dental crowns
Dental crowns are a popular form of tooth restoration because they:
Can be formed in the natural shape of teeth. This feature adds to the natural-looking appearance of your teeth and is a great option for those who want to be discreet.
Hold cracked or damaged teeth in place. Crowns support teeth that have been significantly damaged by decay or trauma. In this case, your dentist can extract the tooth or use a dental crown to save it.
Do not cause allergic reactions. Dental crowns are made out of materials that are considered to be biocompatible. This means a crown will not cause an adverse reaction.
Act as a protectant. Dental crowns protect your natural teeth from decay and cavities, as well as teeth that have been treated repeatedly for decay. The crown creates a barrier between the tooth and the rest of the mouth. Crowns also protect teeth from stains caused by excessive or prolonged smoking and coffee drinking.
Improve the appearance of your teeth. Crowns enhance the appearance of your smile and give you a more natural look. In addition, dental crowns improve the alignment of your teeth.
Offer a long-lasting tooth restoration option. Dental crowns are quite durable compared to other cosmetic restorative dental treatments; they can last up to 15 years with proper care.
Increase confidence and self-esteem. Your smile is one of your best accessories, and dental problems can make you feel insecure and want to smile less. With dental crowns as a restorative treatment, you no longer need to hide your smile and can expect a boost in confidence.
Cons of dental crowns
While crowns are quite popular and the pros are numerous, they have a few disadvantages. Here are some cons of dental crowns:
Alteration of the original tooth. The natural tooth must be altered to accommodate the crown. Some patients experience tooth sensitivity as a result.
Potential for damage. While dental crowns are durable, they can be damaged over time. Porcelain crowns can chip. If chips are small, it is possible to repair them without removing the crown. You might need to replace your crown if there are multiple cracks.
Pain. Clients can experience pain when biting down, which is often caused by the crown being too high and obstructing the teeth on the opposite jaw.
Cost. Dental crowns tend to be more costly than other direct tooth restorations; this may be a significant deciding factor for some persons. Ultimately, the cost of your crown is dependent on the material used to manufacture it.
Possible softening of dental cement. The cement used to hold the crown in place can become softened and may wash away, allowing bacteria to grow under the crown or causing your crown to become dislodged.
It would help if you discussed the pros and cons of dental crowns with your dentist so they can make the best recommendation. It is imperative to consider the purpose of the procedure and what's best for you.
Dental crowns in Slidell
Do you live in or close to the Slidell area and need an effective restoration treatment for your teeth? Our experienced Slidell dentists at Fremaux Dental Care can help you achieve the best smile in an advanced, comfortable manner.
Typically, a new dental crown would require two or three appointments to complete and place. At our dental clinic, we value your time and are proud to offer same-day crown treatments for your convenience.
We will take digital scans of your affected tooth to create your custom crown on-site without the hassle of multiple appointments. We also offer a wide range of other restorative dental treatments, including veneers, dental bridges, and implants. We would be happy to discuss your needs to help you select the right restoration option.
Call us today at (985) 445-9656 or send us a message via our contact form to schedule an appointment. We look forward to serving you.