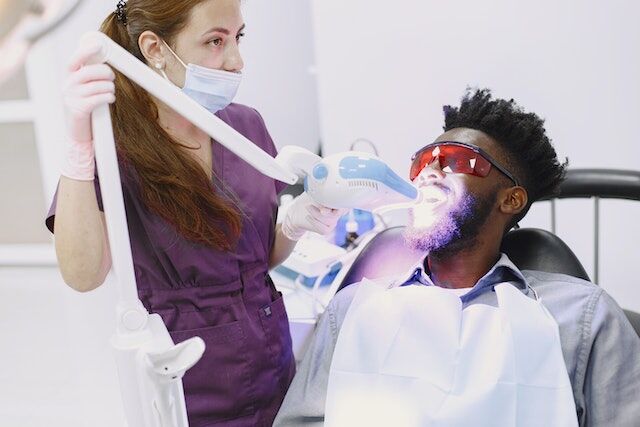 Over time, teeth can begin to look dull and show signs of discoloration. They can grow dark or discolored for a wide range of reasons, including trauma, disease, or irregular teeth cleaning. However, most people want to have a bright, beautiful smile, so many choose to have their teeth whitened. One method dentists use to restore your smile is the Zoom teeth whitening process.
Zoom is an in-surgery whitening system that applies hydrogen peroxide to the enamel of your teeth. This procedure uses a specialized light to break down the hydrogen peroxide and accelerate the whitening process. The procedure is very quick and takes only about an hour to complete.
Preparation for the Zoom Process
Some stains cannot be removed or treated with whitening, so it's important to get an expert opinion before moving forward. As such, you can expect your dentist to do a comprehensive examination of your mouth before they start the procedure. This is done to make sure you have good oral health. They will pay particular attention to your gums and teeth to identify and prevent possible complications. Following the examination, your dentist will inform you whether it is advisable to proceed with whitening your teeth.
Before your teeth whitening procedure, you can also expect to receive a dental cleaning to remove build-up from plaque. Zoom whitening shows the best results on clean, healthy teeth.
What to Expect During the Procedure
Your Zoom whitening will begin with your dentist covering your lips and gums to protect them and avoid sensitivity. Then, they will apply hydrogen peroxide and a whitening gel to your teeth. After this application, a Zoom light will be used to activate the additives. The light penetrates the peroxide and whitening gel to get to the enamel and breaks down stains. Your dentist will then wash the gel away.
Zoom treatments are divided into multiple 15-minute-long sessions. Combined, the sessions typically don't exceed one hour. The procedure is the same in each session, where the gel is applied to the teeth, exposed to the Zoom light, and then washed away. In between applications, you are free to move about until your next application session.
Following your teeth whitening appointment, your dentist may give you a take-home kit to enhance your new bright teeth and help with aftercare.
Side Effects of Zoom Whitening
Consult your dentist to determine if you have the oral health needed for successful teeth whitening. Once you get the go-ahead, you can expect to experience some gum and tooth sensitivity from the whitening process. You can use fluoride toothpaste to help ease this sensitivity; however, there are a number of other ways to reduce sensitivity as well, such as:
Avoiding hot or cold food and beverages. It is best to avoid food and drinks with extreme temperatures to avoid adding to any sensitivity you experience after teeth whitening. If you absolutely can't avoid hot or cold items, keep your consumption of them at a minimum until any sensitivity disappears.
Using a mouthguard at night. Until the sensitivity goes away, it may be beneficial to use a mouthguard at night to prevent your teeth from grinding or rubbing, which can cause discomfort.
Switching to a soft bristle toothbrush. Soft bristle toothbrushes are ideal for helping with oral care after your teeth whitening procedure. They are gentler on the teeth and gums and can minimize sensitivity.
If you do experience sensitivity from your teeth whitening procedure, be assured that it usually lasts for just a short while.
Zoom whitening is not recommended for pregnant or lactating women or children under 13. It is also important to note that Zoom whitening may not be as effective for some as it is for others, as some people's teeth have discoloration that is more difficult to remove.
How Long Does Zoom Whitening Last?
The most important aspect of treatment is aftercare, which helps to determine how long your whiter teeth will last. Make sure to follow your dentist's instructions after your treatment. Practice good oral hygiene by brushing your teeth twice a day and flossing daily.
You should also avoid foods, beverages and products that can cause new stains, like coffee, dark tea, curry and red wine, cola, tobacco, and cigarettes. In addition, your dentist may recommend using whitening toothpaste to help maintain the results of the procedure.
Your Dentist in Slidell
Are you considering getting Zoom teeth whitening? Contact Fremaux Dental Care's experienced and reliable dental professionals. Our well-equipped state-of-the-art dental clinic offers a wide range of services, including teeth whitening.
Call us at (985) 445-9656 or fill out our online contact form to request an appointment.